Cycling in Portland and General Biking Tips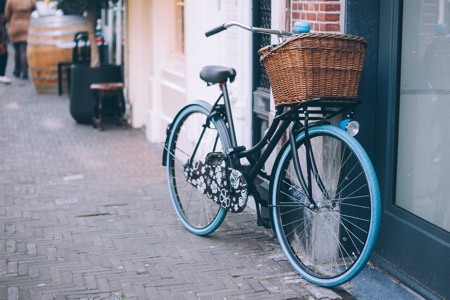 Thanks to Portland's temperate climate, eco-friendly mindset, and persistent traffic problems, more and more people are taking to Portland's streets on their bikes. Biking is an environmentally friendly transportation option that's also enjoyable and good for your health. However, Portland's street designs and busy intersections can sometimes be confusing and pose dangers to cyclists, especially newer ones. It's important to be prepared before you take to Portland's streets on two wheels.
Get Your Gear
The most important characteristic of good biking gear is that it fits you correctly. It all starts with the bike: A bike that fits you is much more comfortable to ride, and it's also much safer. The same goes for your helmet: Make sure that you have one that fits properly to keep you safe in case of a crash.
It's also essential that you're visible to others when you're out on your bike. Clothes with bright colors and reflective stripes might not be the most fashionable, but they will alert drivers and others to your presence. The law also requires bike lights: Front lights, rear lights, and reflectors are the absolute minimum needed. Lights that attach to your helmet, clothing, basket, or bags are a good idea, too.
Get on the Road
The first part of any bike trip is checking to see if your bike is up to the task. See if the tires need air or the chain needs lubricating. A local bike shop should be willing to teach you how to handle these maintenance tasks. Once your bike is ready to go, map out your route. Portland residents have a wealth of bike paths and greenways to choose from when traveling by bike. Once you've got your gear on, your bike ready, and your trip planned, it's time to hit the road. But before you head out the door, leave one thing behind: your earbuds or headphones. It's not safe to wear them while you're biking because they'll keep you from being able to hear things you might need to hear, like the sounds of approaching cars, cyclists, pedestrians, or dogs.
Communicate
Cyclists need to communicate clearly while on their bikes. When approaching a pedestrian or other cyclist from behind, call out, "On your left!" before you pass them on the left. Don't be shy: People need to hear you over the other street noise. Bike bells are available for soft-spoken cyclists. You should also be sure to signal your turns. Most bikes don't come with turn signals, so you'll need to learn the proper hand signals and use them.
Remember the Rules of the Road
Just like drivers, bicyclists have laws they must follow while out riding. Like people in cars, you must yield to pedestrians. You must also stop at red lights just like drivers do. And keep to the right unless the pavement markings indicate otherwise.
Biking Resources
· Portland Biking Guide: The city government assembled this extensive guide to biking in Portland.
· Bicycle Maps: Where to Ride in Portland: Travel Portland created this guide to some of the best places to explore on two wheels.
· Bike Portland: Bike Portland is an independent organization devoted to covering cycling and transportation news in the Portland area. Their website also has an extensive calendar of cycling events.
· The Best Bike Trails in Portland: Find information about popular trails like Gateway Green and Willamette River Loop here.
· A Guide to Biking in Portland, OR: From where to eat to where to sleep, this guide by Momentum Magazine should provide visitors with helpful ideas for their travels in and around the city.
· Family Bicycle Rides: Five Portland-Area Paved Bike Paths to Check Out: Portland has a variety of paved paths; some cut through the heart of the city, and some follow the river.
· Scenic Bikeways: Portland isn't the only place for a beautiful bike ride. The Oregon State Park System maintains trails across the state.
· Oregon Bicyclist Manual: The state of Oregon has written a manual with information about the laws and rights cyclists should know about in the state.
· The Practical Guide to Biking in the City: Urban bike-riding has different challenges from cycling in less-populated areas. This thorough guide presents the challenges and proposes solutions to a variety of urban cycling issues.
· A Beginner's Guide to Biking to Work: Portland's temperate weather and good bike infrastructure make commuting possible for a variety of riders, but all cyclists will need to do a little preparation before they embrace biking to work.
· Zen and the Art of Bicycling to Work: The benefits of biking to work go beyond the realms of the environmental and issues of personal health.
· Fewer Americans Bike to Work Despite New Trails, Lanes, and Bicycle-Share Programs: Although cities are making it easier to bike to work, USA Today reports that few commuters take advantage of the option.
· 12 Beginner Cyclist Tips to Get New Riders Off to the Best Start: New riders (and those helping them) will appreciate these ideas to start cycling successfully.
· The Absolute Best Tips for New Cyclists: Explore the fundamentals of biking in these must-read tips for new cyclists.
· 12 Tips for Better Cycling: The University of California at Berkeley has compiled information here ranging from the proper kind of clothes to wear while cycling to how long your first ride should last.
· Smart Strategies for Biking in the Rain and Dark: Most Portland cyclists will experience rain during a bike ride. Knowing what to do and how to prepare for a rain-drenched bike ride will ensure that riders are as comfortable and safe as possible while riding in the rain.
· Nine Bicycle Gadgets That Will Keep You Safe in Style: Some ingenious products have been developed to make your two-wheeled journeys safer.
· Interior Department Moves to Allow Electric Bikes in National Parks, Public Lands: Bikes with electric motors sometimes fall into a regulatory gray area between bicycle and motorcycle. But the Department of the Interior agreed that bikes with electric motors should be allowed on bike trails on public land.