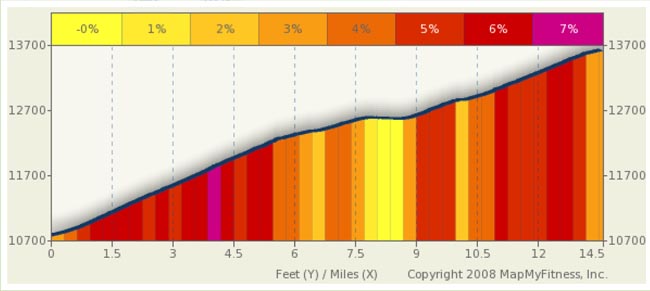 Mt Evans Summary
Do not be fooled, in any way shape or form, by the benign looking profile.  The grade may only average in the 5.5% to 6% range, but climbs over 12,000 feet are nothing like climbs under 12,000 feet.  The air over 12K is very thin and you will find yourself easily winded.  Despite the physical demands of this ride, the trip is awesome. The vistas, mountains, and general scenery are beyond compare.  Wildlife is abundant and it's not unusual to see mountain goats and other furry critters (almost ran over a family of mountain goats flying down this road the last time I was there).  This, Rocky Mountain National Park, and Grand Meas are the three "must-do" climbs in Colorado.

I've started the ride for this report at the Echo Lake fee station.  The roads are open when the snow clears in early June and typically stay open until Labor Day.  You can ride for free before and after this time, up to the snow line, but you will be totally on your own.  Use common sense if you ride in the off season. 

The climb starts immediately, you hit your first switchback a mere quarter mile into the ride and this is just a taste of what is to come.  Three and a half miles, 1,000 feet higher and four switchbacks later, you are rewarded with a stunning vista overlooking Echo Lake, Goliath Peak (12.2K) is to your left. At just over mile 5 the grade eases slightly as you follow the road to the left and come face to face with 13.3K foot Rogers Peak.  You are now over 12,500 feet and Lincoln Lake is 1,000 feet below you to the left. 

The eaiser grade, however, is short lived and you immediately return to a moderate climb up to just shy of 13K at mile 8.5.  Get ready for your only break in the climb, as, from here, you have a shallow three quarter mile descent down to 12.8K at Summit Lake.  Don't blink, or you'll miss the downhill, and if you have a headwind, you might not notice it at all.  As it turns out, it actually is a nice short rest and you don't Loose too much altitude.
At Summit Lake, you'll find a parking lot and a small shelter.  No services are here, just a lot of people in cars shaking their heads in wonderment at seeing people on bikes at 13K.  From here, you have five miles, 15 switchbacks, and 1,300 feet of climbing left.  If you thought the first nine miles were work, you have not seen anything yet, cycling this high is like nothing you ever experienced before and the lack of oxygen is foremost on your mind. Pilots have to wear oxygen masks over 10K in non-pressurized cabins for a reason... a reason you will find out as you move on. However, before you leave the shelter, take time to check the weather. You don't want to get caught in heavy weather or lighting up here.  Remember, you are above treeline and are now one of the taller objects around .  Also, it's likely to be 10-20 degrees cooler and if precipitation falls, it will most likely be sleet, freezing rain, or snow: Even in July and August. 

Plan on at least an hour for the climb.  Yes, some can and will do it faster… but it's likely you'll want to stop and rest and/or take in the incredible views. From Summit Lake, you are looking up at north face of Mt. Evans.  Most of your climbing will be on the south face.  The road departs to the southeast and just starts to climb.  The grade is close to 6% here with slightly higher grades around the switchbacks.  You'll find the first set just past mile 10.   If you look up 250 feet, you'll see the road above you, but it will take more than a mile and a half to get there.

The switchback at mile 12.75 is spectacular.  You're at 13,700 feet and looking west.  Abyss Lake is 1,100 feet below you and the Sawtooth Range is flanking the lake.  From here, you can see your objective a bit more than a mile and six switchbacks away. It's so close, yet so far.
At the summit, you will find the remains of a old observatory and a footpath leading over a pile of rocks if you want to walk still higher.  The views are stunning and you are on the highest paved road in the country.  You are now in elite company as most people in the world would never attempt to do what you just did. Congratulation! You have earned an incredible downhill ride. The trip down will be fast.  Watch your speed on the switchbacks.  The last time I rode this , I almost took out a family mountain goats loitering just beyond a blind curve.  I'm not sure who was more surprised, them or me.
Alternate Route
For those of you that are looking for a longer and more challenging ride than just scaling Mt. Evans, starting points in Evergreen, Bergen Park, and Fillius Park, east of Mt Evans, will add rides over Squaw and Juniper Passes.  This will add 20 to 30 miles, based on where you start and will add roughly 3,000 feet of climbing to the ride.  I rode once from Evergreen to Mt Evans, the operative word here is once, and found it an incredibly challenging and rewarding ride.  It's a relentless climb, and going over Juniper and Squaw Passes do not give much of a break to climbing.  In fact, the only downhill is a short ride  into Echo Lake.

From Idaho Springs, it's 28 miles and about 6,400 feet of climbing to the top.  The grades are about the same as from Evergreen (6% range) except right up to Echo Lake, where they approach 10% for a short time. It's actually a fantastic ride down into Idaho Springs from Mt. Evans and makes a nice end-to-end roughly 80 mile ride starting in Evergreen and ending in Idaho Springs with a side trip up Mt. Evans.